Industrial Scales - Postal Scales - Shipping Scales - Bench Scales
Modity Inc. Your Equipment Store!
Contact Us: pat@ams123.com 800-903-8515
Since 1988
*New Brand name Salter 650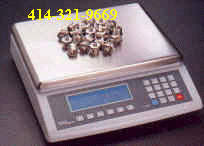 Was the TC2010 Piece Counting scale Price $755.00 The Transcell DCSG/TC2010 is a high resolution Piece counting scale featuring keyboard tare and 2000 item storage! It is equipped with features normally found on much higher priced units, including dual channel for easy configuration of a remote platform scale, memory accumulator and target values. The scale can be configured in the following capacities:
12lb x .0005 lb 30lb x .001 lb 60lb x .002 120lb x .005lb

1:1,000,000 Internal Resolution
The piece counting scale is configured with 2 serial ports and a remote scale interface
port for an optional second platform. You can interface to a PC or Bar code label printer for additional flexibility.
If you count various small (light) items and need low Capacity/High resolution but also count larger (heavier) items needing high capacity. The DCSG counting scale is for you. We can configure the internal platform to handle small items and interface a larger remote platform scale to accommodate the counting of heavier items.
New Brand Name - Salter Brecknell model 610 digital scale

TC-100 Counting Scale Available in 2-5-10-20 lb. Capacity
Great entry level Piece Counting Scale. Use to count small pieces and parts in your shipping / receiving department. Dimensions 8.4 x 8.4in.
Price $329.00
To Order CALL 800-903-8515
New Brand Name - Salter Brecknell model 630 piece counting scale

TC-200 Counting Scale - Available in
6 12 30 60 lb. Capacity Dimensions 9.2 x 12.4 Add a bar code and laser scanner to automate your warehouse. Improve inventory control and warehouse management. Counting Scale Price $439.00

Digi DC-688 The Portable Solution Use this piece counting scale everywhere in your organization. Operates on standard "D" cells.
6 15 30 60 lb. Capacity
Price $call
SPF - 150 Platform scale With remote display $175.00

SPF-400 400lb scale 250.00

PC150 Heavy Duty Bench Scale 150lb. Capacity
Use as a shipping scale or interface to your computer via built in serial port.
Industrial scale designed for harsh environments. Scale platform
size 13 x 13 Built in digital display Legal for trade certified
Price $call
Custom Scale configurations available contact us at 800-903-8515
Modity Inc.
N60 W16500 Kohler Ln
Menomonee Falls, WI 53051
262-252-2580

Contact Us: pat@ams123.com 262-252-2580