Modity Inc. Your Equipment Store!
Contact Us: pat@ams123.com 800-903-8515
Since 1988
FP Postage Meters & Mailing Machines

Get Vertical with FP Jet Mail. The Postalia Postage Meter can Process mail up to 1 inch thick with JetMail's exclusive vertical feeder! The electronic postage meter will track postage expenditures by department and interface to a digital postal scale.
By using the vertical feed system , Jet Mail is able to handle all types of mail up to 1 inch thick. It's perfect for Catalogs and bulky mailings.

FP M3000 Mail machine with electronic postage meter

This Automatic feed automated mail machine can feed, seal, post and stack your mail at speeds up to 200 pieces a minute. Interface to an electronic postal scale and automate postage rate setting. Automated Mailing Systems can interface a MCM Postal accounting system that will provide you with unlimited account charge backs. The MCM can also interface to Pitney Bowes Meters.

Francotyp Postalia T1000 Stand alone Postage Meter Machine supplies.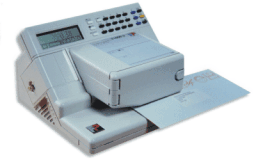 The Postalia T1000 is rental unit that meets the needs of many small mailers. This is a single feed unit that can process up to 20 pieces a minute. Available in Milwaukee and surrounding counties directly from Automated Mailing Systems or nationwide from FP (Francotyp Postalia). The operating cost is much lower than Pitney Bowes Equipment due to the lower postage meter supply cost. Check our Pitney Bowes POSTAGE METER Supply Page for tape and ink cartridge pricing.
FP 8513 Mail machine with 8000 electronic postage meter.
A modular mailing machine that can be configured as a single feed mail machine or a fully automatic mail system that can process mail up to 120 pieces per minute. The automated envelope sealer provides tip to tip sealing. The built in label dispenser can print from 1 to 120 self adhesive tapes for larger envelopes or packages. A postal accounting feature is provided to charge postage back to 14 departments. Compare to the Pitney Bowes mid range postage meter system.
Postage Meter & Mailing Machines